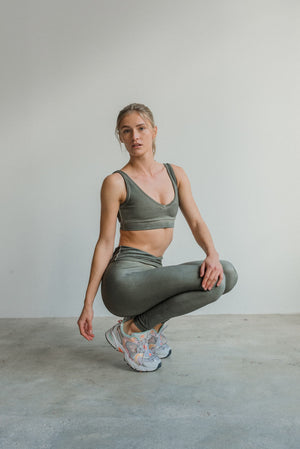 Stone Beat Green Top

Regular price

0,34 EUR

Unit price

per
Tax included. Shipping calculated at checkout.
Sports top with V-neckline and rounded back. Allows to practice low and medium impact sports. Tissue "second skin effect" that allows comfortable support and freedom of movement.  Resistant garment due to its quick drying with UPF+40 sun protection. Due to the handmade finish of the color, we inform you that each one is unique.
make click here to see the traceability and sustainability of this garment.
Transparencia
En esta colección, Bradhy:
- Ha ahorrado en H20 el equivalente a 2.891,92 vasos de agua.
- Ha ahorrado en CO2 el equivalente a 394.291,30 bombillas led 4W encendidas 24h.
- Ha producido su colección localmente, apoyando a los proveedores de cercanía.
- Ha apostado por una economía circular.

*Comparativa con una producción de prendas deportivas de poliéster convencional.
Detalles Técnicos
SECOND SKIN EFFECT  Tejido con una textura extra suave y de tanto agradable, que permite mayor adaptación del cuerpo.
QUICK DRY  Tejido que gracias al entramado de sus fibras, permite una mayor circulación del aire permitiendo así un secado rápido y una mayor absorción del sudor.
SOLAR PROTECTION  Tejido que protege la piel de los rayos UV ( hasta UPF+40)
BIOELASTIC STRECH  Proporciona una mayor flexibilidad del tejido aportando así una gran libertad de movimiento.
ANYTIMEWEAR  Prenda diseñada y confeccionada con la durabilidad adecuada para practicar deporte de bajo y medio impacto y para llevar en tu rutina diaria.
Cuidados
Lavar a una temperatura inferior a los 30 °C.
Evitar el lavado en seco y las secadoras, recomendamos secarlas en el exterior y evitando luz directa, ya que los colores pueden desgastarse.
No usar lejía ni productos suavizantes, ya que suelen dañar los tejidos.
TIPS
Recomendamos lavar las prendas con detergentes neutros o específicos para eliminar olores.
Después de la práctica de deporte aconsejamos lavar inmediatamente las prendas, evitando así bacterias responsables del mal olor o manchas de sudor.
Composición
Exterior e interior: 25% lycra 75% poliéster reciclado